Why to install ceramic coating?
Ceramic Pro coating is a nanoceramic protective coating. Ceramic Pro Coating is rigid flexible super slick glass shield, bonding to and protecting the substrate. Ceramic Pro Coating is not chemically removable by high detergents or acids and can only be removed through abrasion.
We offer 3 Packages for Ceramic coating:
Bronze Package: 1 Layer of 9H applied on the paint. 2 Years warranty.
Silver Package: 2 Layers of 9H applied on the paint. 5 Years warranty
Gold Package: 5 Layers of 9H applied on the paint. Lifetime* warranty
---
1. Wash car
The first step for ceramic coating is to wash your car to make sure we clean it throughout. During this process we also inspect car and see if we need to do any paint correction services.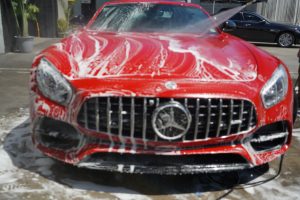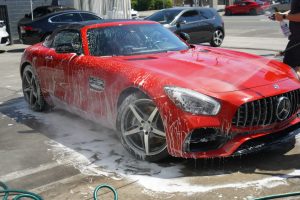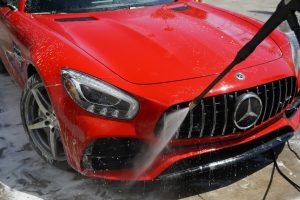 ---
2. Clay bar
Why do Clay the car? clay barring helps to removes harsh contaminants such as bug fossils, overspray, road tar and acid rain. Clay barring not only improves the car's shine, but it also smooths out the surface for a glassy feel.
---
3. Polishing
Polish should be done before PPF installation, as it helps to restore car paint that has lost its shine due to oxidation. Polishing helps to eliminate surface scratches, swirls, oxidation, dirt, and other minor imperfections. Most new cars require minor polishing, which is included. However, if car paint requires 2 or 3 stage paint correction, its extra.
4. Ceramic Pro Coating Installation
Depending on the package you choose, we apply 1, 2 or 5 layers of coating on the paint of the car. We also offer ceramic coating for glass windows, interior, rims and calipers to protect them from light damages and for easy maintenance. Curing process takes 48 hours.
---
5. Delivering
After installation, we inspect car all around to make sure that coating was applied properly and there are no hot spots.
---
Maintenance
We strongly suggest to use 2 bucket wash for ceramic coated cars. Do not wax car, ceramic coating eliminates waxing.
In addition, all ceramic coated cars should come for yearly maintenance to maintain warranty.
---
Contact us below