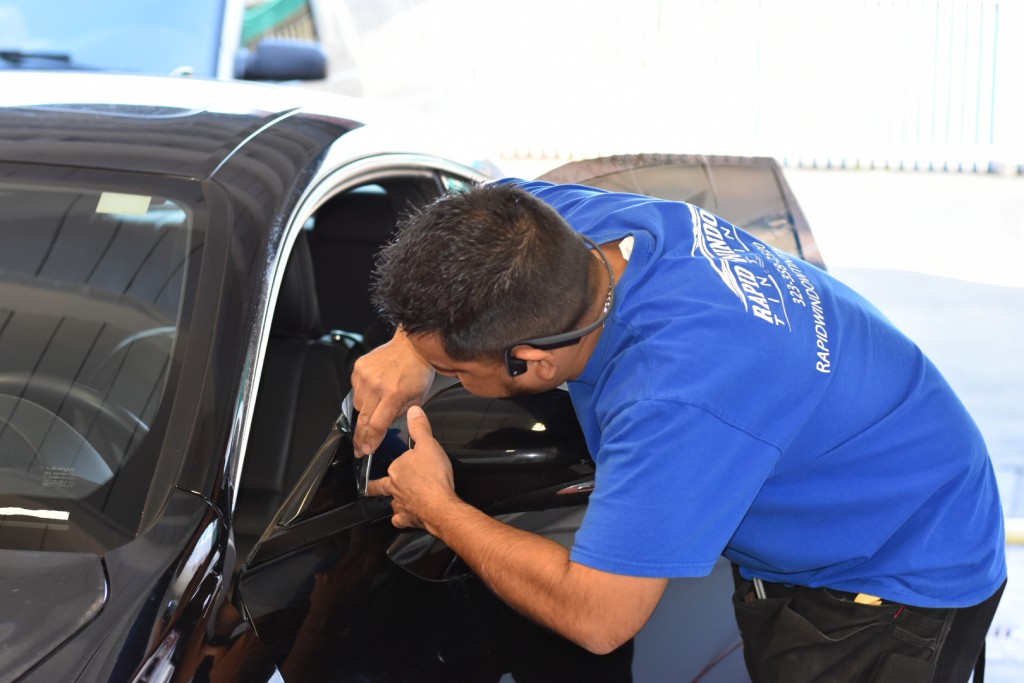 Why to Choose Our Window Tint School
Rapid Window Tinting has been in business over 10 years. Our installers have been in industry over 20 years. Window tinting service is one of fastest growing industries and has high potential. At our School we offer our experience and can teach you in and outs of the window tinting. Over the years we came up with different techniques of installation, which we will be glad to share with you. Dont wait and sign up today. Our window tint classes
Type of window tint Classes
Window Tint training:
5 day Beginners window tint training – $1950
2 Days Advanced Window Tint Training – $1250
---
Advanced Window Tint Training – 2 Days Workshop
Advanced Window Tint Training is a 2 Day workshop designed for someone with at least 1 year experience in auto window tinting. This class is designed to further your knowledge and get more efficient.
During 2 Days advanced window tint workshop we will teach:
– How to hand cut window film
– Heat shrink window film on Tesla's rear glass
– Double cut window film
– Double shrink window film
– Template cut
– Micro Edging
– Shaving film using file
– Shaving film using knife
---
Cost of the workshop – $1250
Deposit $500
Duration – 2 days
Reserve your sport with $500.00 Deposit – Pay now
---
What will you receive at the window tint training
Certificate: Upon completion of the training and successful installation we will provide Certificate. Our certificate is recognized by many shops.
Tools: During training we will provide with Free starter kit tools, which you can keep
Window Tint: Window film will be provided to practice at the school
Ongoing support: We committed to success of our students. If you have any questions about any particular installation, our instructors will be able to assist you via facetime or phone call
Plotter training: We will explain different types of cutting software and will provide window tint training on the plotter.
---
Curriculum For Beginners Window tint training course – $1950
Day 1
Which tools are needed?
How to use blade
Explanation of each tool and usage
Window tint types
How to approach each glass
Learn which way to shrink
How to properly pre window
Cleaning windows with single inch blade or scouring pads
How to remove tints using head gun
Day 2
Hand cut VS machine cut
Hand cut for side windows
Hand cut for rear windows
Hand cut for quarter windows
Heat gun, what need to be shrank
Solo shrink side windows
Solo shrink rear windows
Day 3
How to Install side windows in one stage
How to Install side windows in two stages
How to Install rear window in one stage
How to Install rear window in two stages
Solo clean and install side windows
Solo clean and install rear windows
Solo clean and install quarter windows
Taking out fingers
Final check
How to fix imperfections
Day 4
Solo install side and rear window in one stage
Solo install side and rear windows in two stages
How to shave using blades and files
Windshield tint types and shrinking techniques
Windshield installation techniques
How to protect dashboard and electronics on the windshield
One and 2 stage installation on the windshield
Learn how to use Plotter
How to precut on Plotter
Day 5
Certification day
Practice solo one state install
Practice solo two sate install
Certification process
Graduation
---
5 Days Beginners Window tint training $1950
$500 Deposit
Reserve your sport with $500.00 Deposit – Pay now
---
Window Tint School

Tint training

Window tint training class

Window tint training class progress

Window tint training

Window tint certification

Window tint training
Window tint training graduation

Window tint school graduation

Window tint training graduation

Window tint training graduation

Window tint training graduation

Window tint training

Window tint training school

Window tint training

Tint class

Window tint training

Window tint hand cut

Hands on window tint training

Installation of quarter window

Window tint training, how to remove old tint

Window tint training, shrinking tint on rear window

Window tint training, tint installation on rear window

Hands on window tint training

Plotter cut training

Window tint plotter training

Learn how to cut window tint with plotter