Why to install Paint Protection Film on your car?
PPF or Clear Bra is designed to protect any painted surfaces from
corrosion, abrasion, chemicals and other types of physical damage. Paint Protection Film has visual appearance, the PPF acts as a self-healing protective layer preventing the paint from being damaged by scratches and scuffs. Gone are the days of needing a heavy dose of sunlight or a heat gun to have the self-healing take effect.
Xpel Paint Protection Film comes with 2 options:
Xpel Ultimate Plus PPF. Here are key features of this film:
Discoloration & Stain Resistant: ULTIMATE PLUS PPF is stain resistant & will maintain clarity under the harshest conditions.
Non-Yellowing: PPF will not yellow from UV exposure, ensuring protected areas are nearly invisible.
Heat Activated Self-Healing Topcoat: Ultimate Plus PPF is made of elastomeric polyurethane and it will self-heal light scratches & swirl marks with a light heat application to the film's surface.
Prevents Wear & Tear: Ultimate Plus Clear Bra will stop rock chips, nicks & scratches in the paint, and keep your vehicle looking as good.
Edge Seal Technology: Unique construction of this film will prevent lifting & delamination. Xpel's signature Edge Seal Technology ensures film stays stuck & keeps surfaces protected from contaminants.
Xpel Stealth (Matt) PPF. Here are key features of this film:
Unique Satin Finish: With satin finish, Stealth PPF helps match most factory flat paint jobs and virtually disappears on most surfaces. With a finish that's uniformly smooth, you can add STEALTH to your matte or gloss paint job for a unique satin finish.
Easy Maintenance: Flat finishes can be difficult to maintain and even harder to repair. Stealth PPF enables you to easily wash and dry your car without damaging its sheen.
Self-Healing: When exposed to heat, the enhanced clear coat properties eliminate fine scratches and swirl marks over time.
Warranty: Stealth PPF features the same superior impact protection as ULTIMATE PLUS back by our industry-leading 10 year warranty.
The process of PPF Installation
1. Car wash and decontamination
The first step before we start Paint Protection Film installation either for entire car or full front (bumper, hood, fenders, headlights and mirrors) we wash the car and make there are no residue left on the paint. During the wash we inspect the car and check if there is any paint correction needs to be done.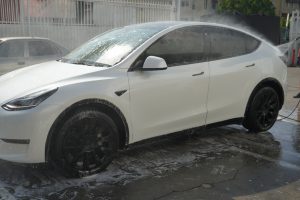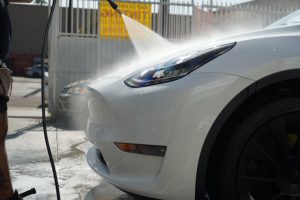 2. Clay Bar
Why do Clay the car? clay barring helps to removes harsh contaminants such as bug fossils, overspray, road tar and acid rain. Clay barring not only improves the car's shine, but it also smooths out the surface for a glassy feel.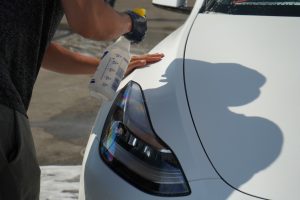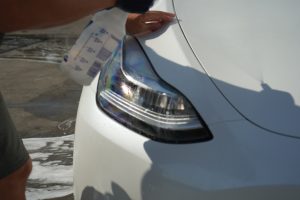 3. Polishing
Polish should be done before PPF installation, as it helps to restore car paint that has lost its shine due to oxidation. Polishing helps to eliminate surface scratches, swirls, oxidation, dirt, and other minor imperfections. Most new cars require minor polishing, which is included. However, if car paint requires 2 or 3 stage paint correction, its extra.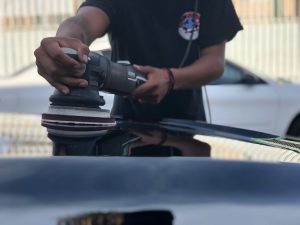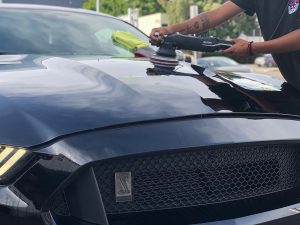 4. Precut PPF
We precut all our patterns. Paint Protection Film software gives us access to all car patterns. Precuting Paint Protection film helps us eliminate any unnecessary risks by cutting film on the paint. The patterns match exactly the car and we also wrap all edges,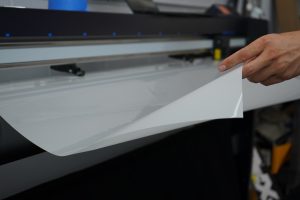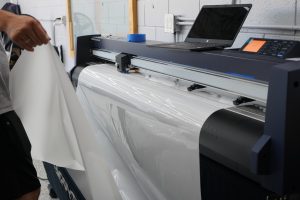 4. Installation
Now we are finally ready for installation. Installation process usually takes 6-7 days for entire car and 2-3 days for full front (duration may change depending on the car). During installation we wrap all the edges where possible. And we complete our installation with inspection.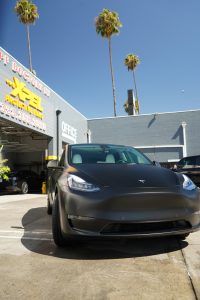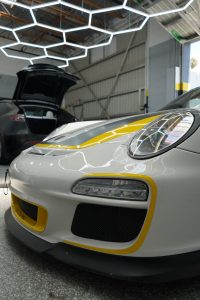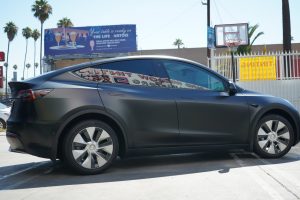 What is recommended
To extend longevity of Paint Protection Film (PPF) we suggest to install Ceramic coating on top PPF. Ceramic coating is a nanoceramic protective coating. Ceramic Pro Coating is rigid flexible super slick glass shield, bonding to and protecting the substrate.
We offer 3 packages for ceramic coating:
Bronze package – 1 layer of coating 2 years warranty
Silver package – 2 layers of coating 5 years warranty
Gold package – 5 layers of coating Lifetime* warranty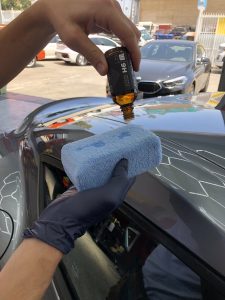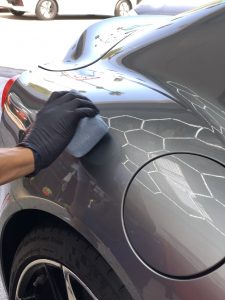 ---
Contact us to Schedule your Consultation: